Heating tools for professionals
New Turbojet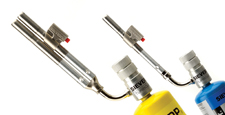 Easier, more adaptable soldering
New Turbojet Swivel Torches from Sievert
The New Turbojet Swivel Torches from Swedish Sievert AB are developed by professionals and 50 percent lighter than its predecessors. Accessibility has been improved and the burner can function in all directions. The rotating cyclone flame wraps itself around the pipe, providing extremely even heat distribution. This, together with a built-in pressure regulator, suits the new Turbojet to both brazing and soldering.
The new Turbojet comes in two models; standard, with a single cyclone burner and Turbojet Twin, with a twin burner. Both are fitted with swivel fastenings, enabling rotation of the burner through 360 degrees. Turbojet twin has an extra swivel point, enabling rotation of the flame to fit the work-piece. Safety is given high priority when Sievert develop new heating tools and Turbojet is no exception.
'We have built in a newly developed double gas-top system to minimise leakage risk,' said Mikael Brelin, President and CEO at Sievert AB.
High performance cyclone flame
Sievert Turbojet features a built-in regulator, adjustable to 3.5 bar, providing high performance while the cyclone flame remains compact and stable. This combination suits the new Turbojet well to both brazing and soldering of different metals and pipe with diameters up to 25 millimetres (1 inch).
Weight is reduced by 50 percent by a valve-casing in aluminium and the cyclone burner in stainless steel. This means better ergonomy for the user. Automatic Piezo ignition makes the user's work easier.
Mikael Brelin summed up:
'We have a worldwide organisation and close cooperation with professional users who we know appreciate our quality products. We are sure our new Turbojet will be appreciated by professionals everywhere."
The new Turbojet is developed for the world market and available with both European and US connections to gas cartridges. For best performance the equipment should always be used with Sievert gas cartridges MAPP, Ultramapp or Propane.
For more information, download our product leaflet here