Heating tools for professionals
Sievert's much-praised hot-air tool wins prestigious Red Dot Award
Sievert's much-praised hot-air tool wins prestigious Red Dot Award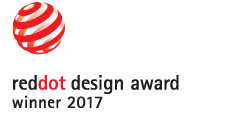 Our hot-air tool's new design language, offering an optimal meeting of design and ergonomics, has now received the recognition of the international Red Dot Design Awards. Sievert's advanced DW 3000, along with our Handyjet and Powerjet, has now been recognised by the Red Dot seal of quality.
"We are naturally extremely proud that our new design language has been recognised in this way," says Mikael Brelin, CEO of Sievert AB. "Our customers, both in Sweden and internationally, have been quick to praise our new DW 3000 hot-air tool, which represents one of largest ever investments."
In addition to its highly-regarded design, the DW 3000 is characterised by its extremely low weight in combination with the highest airflow of any comparable tool on the market. Sievert's Powerjet blowtorch and Handyjet multi-purpose torch have also been awarded the Red Dot Design Award.
The Red Dot Jury
Professor Dr Peter Zec, founder and CEO of the Red Dot Award says:
"The Red Dot winners are pursuing the right design strategy. They have recognised that good design and economic success go hand in hand. The award by the critical Red Dot jury documents their high design quality and is indicative of their successful design policy."
The jury –  consisting of some 40 independent designers, academics and specialist journalists – has tested, discussed and evaluated each individual product. This year, the competition attracted over 5,500 entries from 54 countries.
For more information, please visit:
Number 1 Heating Tools
Facebook