Heating tools for professionals
He can hardly get any better!
The Sievert grinding wheel dressers was designed over 75 years ago. It was brilliant from the start and has continued to evolve and improve over the years. The grinding roller consists of quality steel discs with U-shaped teeth pressed from one piece. A special hardness program brings the teeth to a precise degree of hardness. This guarantees minimal wear during sharpening and dressing. The toothed roller is given stability and strength by corrugated support discs between the toothed discs. The replaceable roller can be used until the teeth are completely worn out.
The dresser has a nipple for pressure lubrication, essential for high rotation speeds and long roller life. A stable handle made of real wood enables a firm, comfortable and two-handed grip. Support lugs make it easier for the roll to be placed evenly on the grinding wheel. They also simplify lateral movements to dress the entire width of the grinding wheel. A protective plate prevents sparks from spraying against the face and hands.
These advantages make Sievert dressers the best choice:
Levels and evens out the running surfaces of the grinding wheels.

Retains full dressing ability even with worn teeth.

Extremely low wear.

Safe and comfortable real wood handle with fender In three sizes, so that the optimum can also be achieved for your grinding wheel.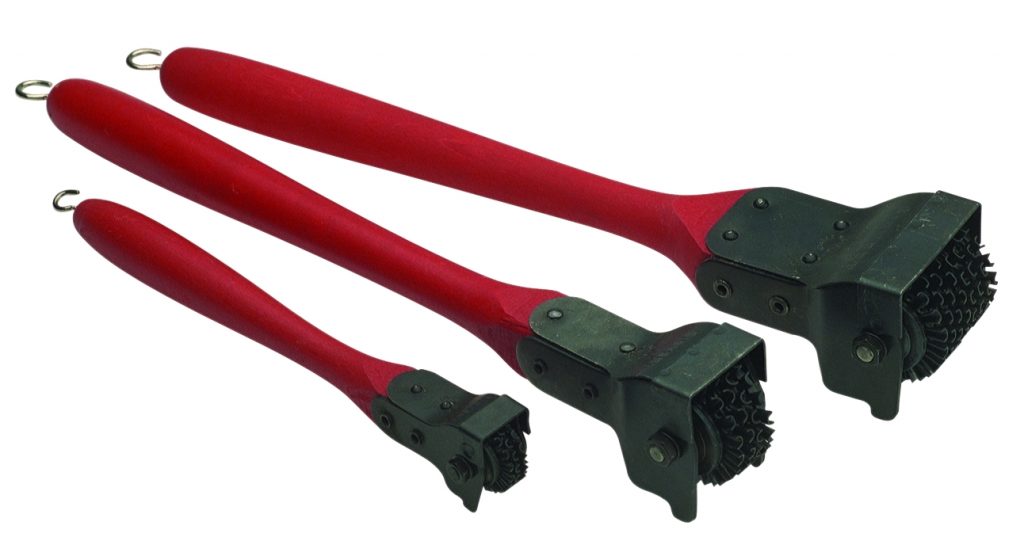 | Item no. | 361008 | 361108 | 361208 |
| --- | --- | --- | --- |
| Total length, mm | 285 | 435 | 435 |
| number of toothed discs | 3 | 4 | 8 |
| Roll width over the teeth, mm | 12 | 24 | 50 |
| Roll width across center, mm | 21 | 39 | 65 |
| Roll diameter, mm | 36 | 55 | 55 |
| Axle diameter, mm | 8 | 12 | 12 |
| Grinding wheel diameter max., mm | 200 | 500 | 500 |
| Maximum dressing width, mm | 38 | 63 | 102 |
| Maximum roller speed m/s | 30 | 50 | 50 |
| Packaging unit, piece | 6 | 3 | 2 |